By utilizing the breadth of our business units and the robustness of our corporate foundation,
we have established a range of themes for our initiatives leading up to 2030.
Under the business unit category, we have grouped themes related to social value creation, which is one of our core existing strengths. Under the corporate foundation category, we have grouped themes aiming to support sustainable business activities.
Under each theme, we are aiming to achieve future-focused innovations based on SDGs indices.
Business units
Business units
Contribution to health and safety
Contribution in the medical, care, and assistance fields


(Next-generation ambulances, participation in projects related to care and assistance accessories, and special purpose vehicles outside Japan)

Response to a diverse mobility society
Development of new products through technological innovation
Bringing deeper personal happiness to people around the world
Customization that brings joy
Exciting motor sports
Corporate foundation
Corporate foundation
Construction of development structures to deliver technological innovation
Development techniques taking advantage of
advanced technologies
Environmentally aware production
Highly efficient production combined with
appropriate product supply and logistics
Employee happiness
Creation and maintenance of friendly and
conducive work environments
Development of personal capabilities
through the development of human resources
TCD's special theme
(our eighteenth goal)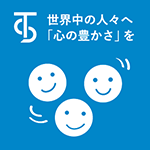 Bringing deeper personal happiness to
people around the world
The objective of our special eighteenth goal is to create excitement and help make the dreams of people around the world come true through mobility.
For example, we want to bring joy to people's lifestyles and even greater freedom to mobility through our accessory business unit, and bring people the joy of racing through our motor sports business unit. As well as the necessities of life, we want to provide people around the world with products that are important for their personal happiness. We believe that TCD can contribute around the world by delivering these values.